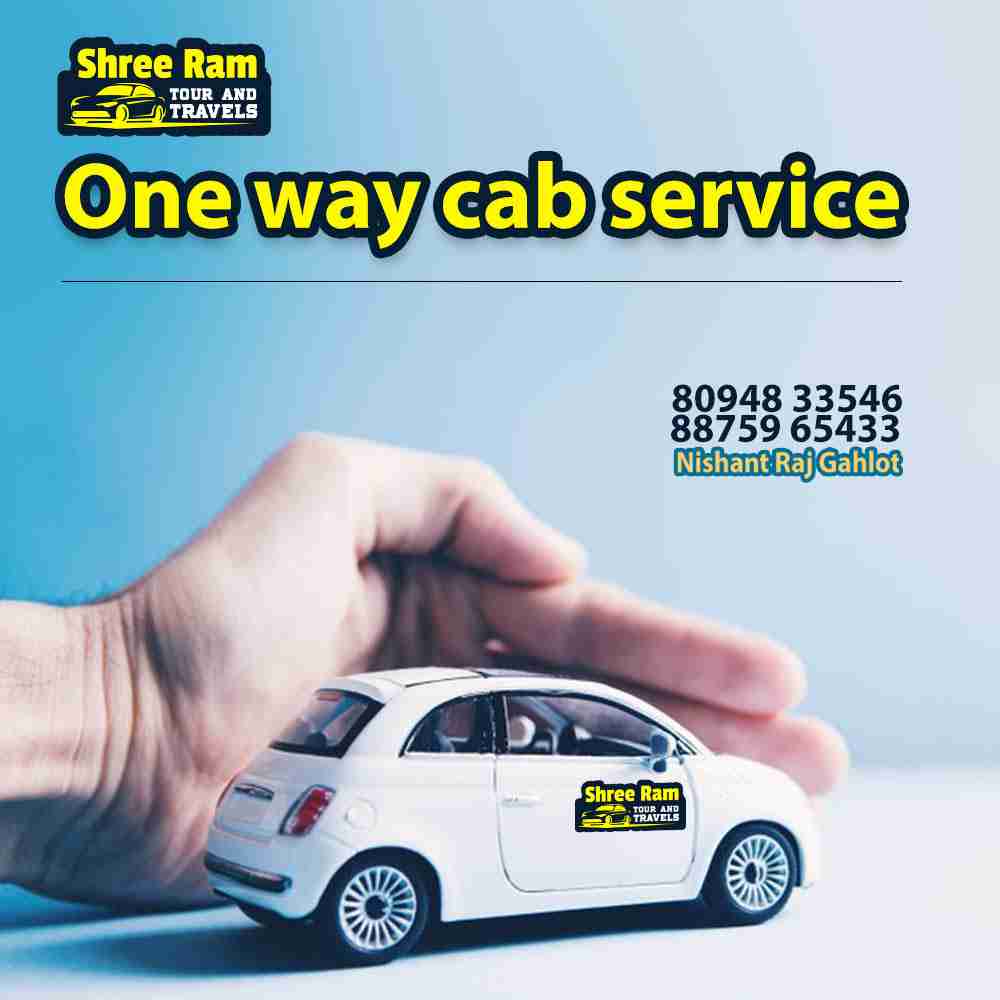 One way cab service, would be the great choice for the road trips, multicity tours (helpful the business traveler and also for others who visit the various cities). One way cab service would easily drop you at destination location including all the major airports, any cities in INDIA. One Way cabs in Udaipur provides the pickup from Udaipur city and drop at any of our 5000+ locations in INDIA.
Shree Ram Tour And Travels provides you the One way cab service from Udaipur, which includes the pick from the Udaipur city and will drop off you at your destination location. Which not only provides the flexibility but also provides the great deal and offer.
Udaipur (Rajasthan) One way cab service hire packages are designed in such a way, so user could avail more benefits by just paying one way drop off charges. We also offers good one way cab rental deals on every trip. So why to wait more, hurry up fast, you are just few step away to grab this deal. Book the one way cab right now….!
You choose any route in India & contact us, we provide you best offer on cab/taxi rental chart accordingly, covering the one way distance from Udaipur to other major destination cities and taxi fare, required travel time, various vehicle available etc
Full sanitized cab for every ride
Hand sanitisers available in cab
Special Precautions will be taken
for senior citizens & Childrens
Every passengers extra care
Complementary face mask.
If you want to go somewhere else, then kindly call our 24/7 helpline [+91 88759 65433 , +91413423351, +91 72979 31933] or email us at support shreeramtourandtravels@gmail.com For Customize Cab rates Enquiries click Quick Enquiry.
OUR POPULAR ONE WAY CAB SERVICE DROP ROUTES
In Rajasthan
One Way Cab Ajmer
One Way Cab Alwar
One Way Cab Banswara
One Way Cab Baran
One Way Cab Barmer
One Way Cab Bharatpur
One Way Cab Bhilwara
One Way Cab Bikaner
One Way Cab Bundi
One Way Cab Chittorgarh
One Way Cab Churu
One Way Cab Dausa
One Way Cab Dholpur
One Way Cab Dungarpur
One Way Cab Hanumangarh
One Way Cab Jaipur
One Way Cab Jaisalmer
One Way Cab Jalore
One Way Cab Jhalawar
One Way Cab Jhunjhunu
One Way Cab Jodhpur
One Way Cab Karauli
One Way Cab Kota
One Way Cab Nagaur
One Way Cab Pali
One Way Cab Rajsamand
One Way Cab SawaiMadhopur
One Way Cab Sikar
One Way Cab Sirohi
One Way Cab Sri Ganganagar
One Way Cab Tonk
One Way Cab Udaipur
#Onewaytaxiservice #Onewaycabservice #Taxiserviceinudaipur #Bestonewaycabservice #Carrentalinudaipur #Udaipurcarrental #Bestcabserviceinudaipur #Onesidetaxiinudaipur #Rentoncarinudaipur
Mob no.: 8875965433, 8094833546
Address : 926/University Road, North Ayad, Opposite Nagda Restaurent,Udaipur-313001 (Raj)
opening hours – 06:00 A.M. to 02:00 A.M.
Star Rating*****5
#Onewaycabservice #Onewaytaxiservice #Taxiserviceinudaipur #Bestonewaycabservice #Carrentalinudaipur #Udaipurcarrental #Bestcabserviceinudaipur #Onesidetaxiinudaipur #Rentoncarinudaipur