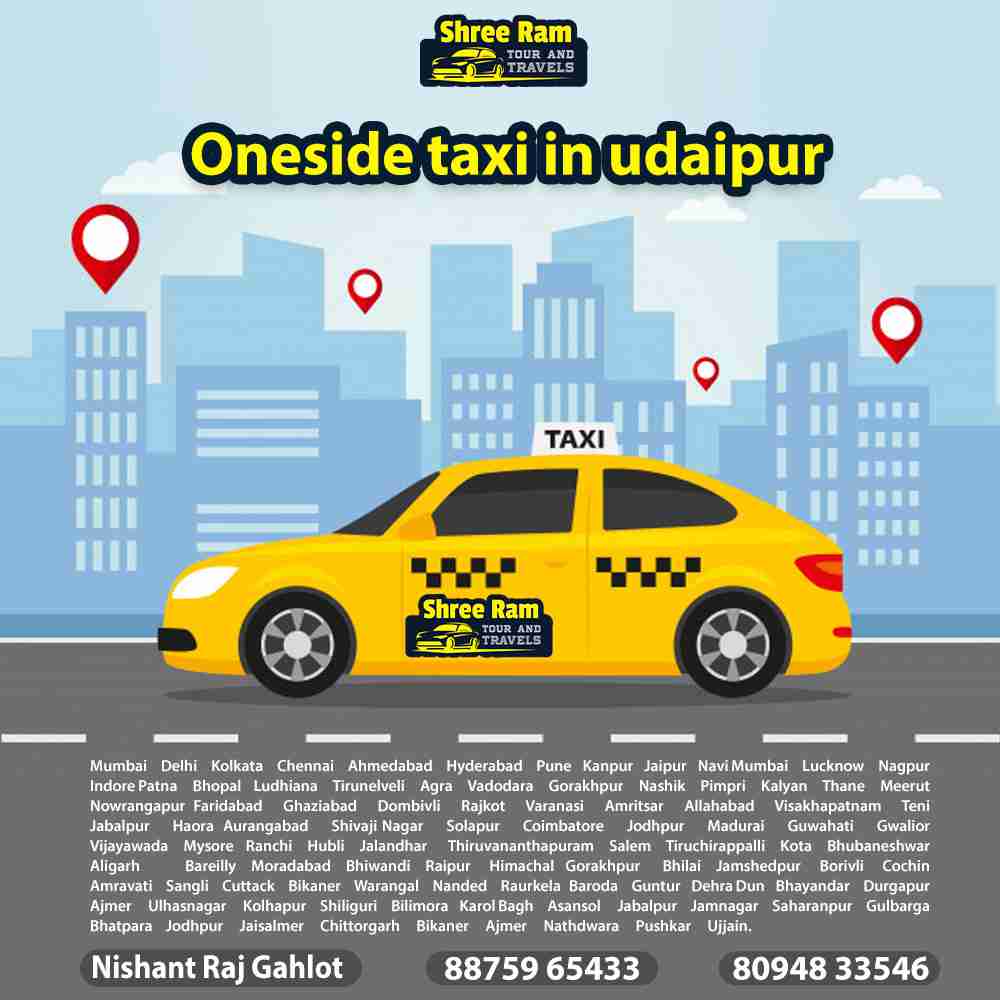 If you are looking for a Oneside taxi in udaipur you can try Shree Ram Tour And Travells. We are the most trusted Oneside taxi services provider all over the India and we cover +300 cities and over +2000 destination all over India. We provide you the fare tour with a variety of packages which you can choose according to your need. In Oneside taxi in udaipur – Our driver take off you on time and help you as a local guider in that city. In Oneside taxi in udaipur – You can book a cab for a full day or for some hours as you need. Our agents will help you to plan your day for a proper visit. How can you Books Oneside taxi in udaipur You can book a Oneside taxi in udaipur or cab to visit Any Cities we can provide our best service for your destination. Our services are best, we can provide you comfortable and relaxed journey for your source to destination. You can book a cab through our websit or on a call our employee are always available for your help. You can call anytime for an enquiry. Shree Ram Tour And Travels / Oneside taxi in udaipur is a trusted company among all the tour and travelling company.
If you want to go somewhere else, then kindly call our 24/7 helpline [+91 88759 65433 , +91413423351, +91 72979 31933] or email us at support shreeramtourandtravels@gmail.com For Customize Cab rates Enquiries click Quick Enquiry.
#Onewaytaxiservice #Onewaycabservice #Taxiserviceinudaipur #Bestonewaycabservice #Carrentalinudaipur #Udaipurcarrental #Bestcabserviceinudaipur #Onesidetaxiinudaipur #Rentcarinudaipur
Mob no.: 8875965433, 8094833546
Address : 926/University Road, North Ayad, Opposite Nagda Restaurent,Udaipur-313001 (Raj}
opening hours – 06:00 A.M. to 02:00 A.M.
Star Rating*****5
One Side Taxi Service Available In All over India

#Onesidetaxiinudaipur #Onewaytaxiservice #Onewaycabservice #Taxiserviceinudaipur #Bestonewaycabservice #Carrentalinudaipur #Udaipurcarrental #Bestcabserviceinudaipur #Rentcarinudaipur